History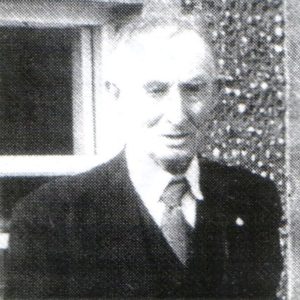 Míceál Ó Duinn was one of a family of seven, who was born in Upper Ballyfin in August 1883. He devoted his whole life to the promotion of Irish music and dancing. In his young days, his only mode of transport was a pedal cycle which transported him as far away as Spiddal and other parts of the Gaeltacht, where he learned Irish music and also took part in Irish Dancing competitions. He led a long and healthy life, until he passed away on 7th July 1977 at the age of 92 years. In ancient time, the year's turning was celebrated by numerous festivals. One of the most famous was the festival of Lughnasa, celebrated around the end of July. It was the custom for the people to assemble on a particular mountaintop in their locality to celebrate the festival. Ard Erin in the Sliabh Blooms was on such location where this festival survived in living memory, known locally as "height or fraughan Sunday". The older generation can still recount with a sense of joy, the traditions associated with the festival. The fraughan or bilberries were traditionally gathered and eaten during the walk to and from Ard Erin.
Articles & comments
---
Dancers from America, Ireland, France, the Netherlands, the U.K. and Norway visit Heywood Gardens in Laois during the 1999 summer school. Slieve Bloom Fraughan Festival and Micheal O Duinn Summer School. The Mountrath-Castletown based Half—Door Club Set Dancers'in its programme of development for 1998, set two main objectives. l. To assist in the revival of the ancient festival of Lughnasa. 2. To establish a Summer School to commemorate the memory of Irish Dancing Teacher, Michael Dunne- Micheal O Duinn.
The two objectives will be realised in the Sliabh Bloom Fraughan Festival and Micheal O Duinn, Summer School, scheduled for July 31 to August 14. Fraughan Sunday. The Feast of Lugh was celebrated in ancient times to thank the gods for the fruits of the harvest and the people assemble at the end of July, on a particular mountain top to pay tribute to the gods. Ard Erin in the Slieve Bloom Mountains was one of such locations where this festival survives within living memory, known locally as "Height or Fraughan Sunday.
Micheal O Duinn Summer School Micheal Dunne, Micheal G Duirm, was laid to rest, in his native Ballyfn, this month , twenty—one years ago. 7 – 7 — '77. Micheal played his part in the new emerging nation, devoting his life to the development of Irish culture – language, music and Dance. One of a family of seven, he was born in Upper Ballyfin, in August 1883. He received his early education at Ballyfin irom a Mr. Callaghan and his first formal dancing lesson from a Mr. Lanham. Perhaps it was through his influence and encouragement that the young Micheal was to dedicate his long life to the promotion of Irish Dancing in Laois and surrounding counties. He is remembered with affection by his hundreds of past-pupils including Fr, Kevin O'Neill, President of St. Patrick's College, Carlow, Seamus Hosey, Senior Producer, RTE., Paddy Lalor, former M.E.P., and Irish Dancing Teacher, Maura Shanahan,
Under the aegis of The Half—Door Club of Set Dancers' this year's inaugural Summer School intends to lead to the establishment of an Annual Summer School of lrish Language, Music, and Dance to perpetuate the memory of Micheal.
Attendance at this year's school will include Monique and Erick Curiner and a party of twenty—five teachers and students from France.
Tribute to Micheal O Duinn, Homily by Rev. Fr. Kevin O'Neill
on the occasion of the memorial Mass for Micheal O Duinn, celebrated in St. Fintan's Church, Ballyfin, on Sunday 2, August 1998.
"We have gathered here this morning to pay tribute to a very special Laois man Micheal O Duinn who died on July the seventh 1977, aged 92, some people say, 94 according to others. His life spanned the whole period of the Celtic revival. He was born around the time of the birth of the GAA and before the foundation of the Gaelic League. He was already in his thirties in 1916 and almost forty when they achieved independence. His mindset was that of revisionaries and the idealists who strove in the wake of the famine and the decline of the lrish language and indeed, of Irish self—esteem, to rekindle the fire of national confidence and to revitalise the core elements of our identity, which are, the language, the music and Irish dancing. The Irish language was already long dead in Ballyfin when he was a child; though place names exuded his spirit. Growing up he would have heard names like The Knocks, Na Cnoic— the hills; Campclone, Cam cluin— the crocked meadow; Brockera, – the place of the badger, Clonihork—the meadow of the wild boar, Rossmore — the big wood and so on. When as a young man he joined, he joined Conradh na Gaeilge and he cycled off to Spideal, Co. Galway, to learn Irish, he showed an independence of spirit and a sensitivity, which marked him apart from his contemporaries. Over the years others were to join him and he with Tom Keegan and others were to cycle the long journey to Galway many times. A daunting prospect even by to-days standards and better roads and better bicycles. He drew on that Gaeltach store to build up his reserve of Music, of steps and of Gaelge. He spoke Irish gently and friendly to successive generations of Laois children, as they struggled with "Aon, do, of the reel, the "Aon, do, tri, ceathair of the double jig. He, himself learned his steps from a Mr. Lanham, about whom we know little enough, but he was from Ballyfin,
It is interesting to recall how the community would have known and accepted Michael G Duinn. Well, in Laois, generally, he was known as Mick Dunne, the dancer. To Gaelic feeling people he was known as Micheal O Duinn, a scholar and an ardent Gael. To us his pupils he was known as Mr. Dunne, dancing teacher and gentleman. Careful in his dress, refmed in his language, an Irish speaker, and a life—long pioneer. Always in time for classes no matter what the weather, and any child who attended his classes will remember how he played warm up tunes for his pupils as he divested himself of his travelling gear, laced up his dancing shoes, rosined his bow, until he stepped out a tall imposing figure in his three piece suit, to take charge of his pupils- the talented, the mediocre and the reluctant. He delighted in a dance well done and when a child had feet more suited for a tug-of—war than to intricate steps of the hornpipe, he would chuckle good humouredly, but never to undermine confidence or to hurt.
Sadly, we know little enough of his early life. By the time I got to know him, it was already the nineteen-fifties and I can only judge from the people he associated with. His friends were all revivalists and lovers of the Irish traditions. With people like Dr. Liam Bannon, of Durrow, who died last year also in his nineties and Professor Shan. So many like-minded teachers and Laois people, they promoted the Gaelic cause and the Laois cause. I recall events like Eireamach na Laoiseach, the brave posting on the Rock of Dunamaise, in the fifties when fife—thousand people gathered on the ancient stronghold of the O'Moores and Irish dancing music and song rang round the ancient Rock in a rear statement of Laois confidence and celebration. But for Micheal, the more routine occasions were the feireanna. They were his show pieces. He prepared dancers for the local feiseanna and took special delight when his pupils won at Feis Mor Laoise. He had star pupils all over the county. Among the girls outstanding pupils were his niece by marriage Eileen Dunne, now Eileen Tiernan, Maura Bonham, now Maura Shanahan, of Abbeyleix, Madeline Maguire from Rathdowney, Maureen Brennan, from Ballyfm, now Maureen Culleton, Teresa Coleman, now Teresa Kirwan. There were many others but I cannot name them all. Amongst the men he was particularly proud with Tony Doyle, and Seamus Hosey. He was proud of Paddy Lalor, later TD. and MEP whose mother Fannie Kelly was an ardent Gael and a keen musician. But for Micheal steps were everything, grace of movement, poise, good timing and easy balanced rhythm were his criteria for good dancing. As I said he learned his steps from initially Mr. Lanham, of Ballyfin, and then as young man he added to his store from Connemara and from Co. Clare. He composed his own steps from the faint light steps for the girls and more vigorous ones for the boys. He wasn't a great lover of figure dances but he did admire and promote the "Cor Beirte"— the two-hand reel- and the three-hand reel for their simple grace and elegance. The "Cor Beirte°' demanded perfect poise and balance by letting the use of arms and grace of movement in the turnings, in the crossings and in the swingings. Not only did Micheal work for poor reward, his fees were ludicrous by to-days standards. But is wasn't uncommon for him, I understand, to buy dancing shoes from his own resources for those who couldn't afford them and to buy material for dancing costumes, such was his dedication and commitment.
Again it is important to remember that Irish Dancing was not sectarian. Catholics and Protestants attended his classes. He cycled to Birr to teach the children of the Earl of Ross and in tum the Earl and his wife came to Ballyfin and sponsored prizes at the Feis. He taught in big houses, in poor houses, he taught in kitchens, in parlours, in schools, in parish halls, in Vocational schools, in primary schools and in convents all over the midlands. Sometime we°ll get around to doing a map of Micheal's circuit. We know he taught in Clonaslee, Mountrnellick, Portarlington, Killeigh, Rathdowney, Errill, Borris-in-Ossory, Aghaboe, Abbeyleix, Ballyroan, Crettyard, Raheen, Trumera, Clonaheen, Portlaoise, Stradbally, Timahoe, as well as Mountrath and Durrow and God knows, many other places. He often cycled more than a hundred miles a day and danced and played as well. For a break he would cycle down to Tulla, Co Clare, to stay with friends and to hear Clare music and learn new steps. How could one experience such dedication and such devotion? It seems that Micheal O Duinn and his elk were very spiritual people. Spiritual in the sense of to-day's Gospel that they had priorities. They had a value system which was quite different to ours to—day. He had a vibrant Christian faith, that's beyon question but he also had a spiritual energy which sustained him. He wasn't dependent on material wealth to give him meaning or identity. He wasn't driven by pride, certainly not by worldly ambition. His vocation was to pass on the art of traditional dancing to new generations. His currency was steps, their survival was his life's work. Thankfully, as we sit here this morning, his steps are alive and well in the genes and the feet of a generation born after his death. Maura Bonham's students' carry on the tradition. We have Orla Dunne here who will dance one of his steps for us at the end of Mass. Maureen Drennan's family have the steps; they are set in the Tiernan family and in others who never knew Micheal, the man, but who are beneficiaries of his dancing legacy. One of the great regrets we have about him is that there is little written about him and so many of those who knew him, like him are gone to God. Perhaps, as a result of this summer school in his honour, memories will be evoked and notes towards a life of this very interesting and important Laois man will be compiled. We thank those who have taken the initiative to honour and recognise this Micheal O Duinn. Our task here in this Church this morning, is to formally and publicly, as part of this celebration, give thanks to God for Micheal who used his talents so selflessly in the interests of the people of his native Laois and to pray for all who work to promote the elements of the culture and heritage to which he dedicated his noble life. "Leaba i measc Naornh Laoise go raibh aige."
The local Half-Door Club brings a sense of magic to the banks of the Nore by Donnchadh Ó Riordáin
There was magic in the air when four hundred dancers joined an ancient spirit of Bealtaine welcoming the summerin Castletown, Co. Laoise, on the Banks of the Nore, for the recent May Set Dancing Festival. All age groups were represented , the young primary school pupils, the lively teenagers and young adults, the carefree third level students, the maturing adults, the advancing age groups and the septua and octogenarians in lesser numbers, united with set dancing the common denominator. There are no class distinctions here. all on first names, all eager to learn, teach and share the experience and sheer joy of the free spirit of the ancient art; Perhaps it is in pursuit of that spirit that Riako and Yuki from Japan learned and enjoy set dancing and joined the family. The focal no dhó in the Gaelic tongue as spoken by Riako should encourage the natives to value another element of their inheritance. Riako, represents ComhaltasCeolteoiri Éireann, in Tokyo, and is a well—known visitor to the Half Door Club.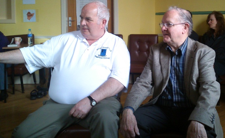 (Donnacha O'Riordan here with Micheal Lalor enjoying a session during the festival)
A group of twenty—five from England including Allison Rogers from Hull University, Betras from Spain and Esther and Herr Shults from Germany. Bill Lynch, from USA, Set Dancing News, Roving Reporter, London Based joined in the Ceilithe. Eddie Kealy returned to his roots, with his wife Carmel, attended all the workshops and will pass on the formations of new Sets at his base in Denham, Berkshire. They both will return next year or earlier in the autumn. Na Piarsaigh GAA Club from Limerick was represented with a lively group of twenty, joined the craic with Mary and Brona Murphy and eighteen Set Dancers from their Club in Waterford. Denis O'Gorman Horn Knocktopher, Co. Kilkenny attended with his dancers. The rebel County was represented by Frank Murphy, Cork City. Frank was a victim of the Polio epidemic which hit Cork City in 1956, and attributes the improvement to his mobility to St. Fintan, but that's a scéal eile. Olive Lynch was there from the Bantry Club and Denis O'Connell from Donaghmore. Aine Barret from Enfield, Aileen Vaughan from Miltownmalbay, Tim Monaghan from Galway, Anne McIntyre from Sligo., Micky Kelly from Mayo, Michelle O'Connor from Portumna, Joanne, Fiona and Sheila Weldon, Bernie Lalor and Sally Hopkins from Dublin, all Set Dancing Teachers contributed much to the success of the occasion.
Local Teachers' Maureen Culliton, Ballyfin, Eddie Clear, Eriil, John Sinnot and Micheál Lalor had a major role in organising the Work Shops and were always ready to lend their expertise. Internationally renowned Set Dancing Teacher, and author of the book "Toss the Feathers", Pat Murphy, put everyone through their paces at the Work Shops and was at hand to call the dances at the ceilithe. His gentle manner, pedagogic skills, quick wit and expertise was appreciated by all who attended the week—end. P.J. Hernan and the Swallow's Tail, Escar Rida and the Glenside Ceili Bands provided excellent music for the Ceilithe supported by the talented local musicians Andrew O'Connell and Paul Finn The Community Centre, Castletown provided an ideal setting for the greater part of the festival but Sheeran's Village Inn, Coolrain, with its in door and out door facilities had its own special atmosphere and made a valuable contribution to the success of the event.
Donnchadh Donnchadh Ó Riordáin. May 16, 1998.
Maura Bonham-Shanahan's words of appraisal to Mícheál Ó Duinn (August 2, 1998)
"Sixty years ago, my Aunt Kitty, took me to my first dancing class. I was very disruptive, so Mr. Dunne, put me sitting on his overcoat and I fell asleep. May aunt went home without me. From that day, Mr. Dunne became my friend as well as my dancing teacher. He remained a good friend until his death in 1977, the same year in which my husband died.
Encouraged by my father, in 1952, I decided to start my own dancing school. I was a bit apprehensive and nervous, so I consulted with Mr. Dunne, who encouraged me to go ahead saying: "You'll do well and who knows, one day you may be famous." I continue to teach all his steps, not only in Laois but all over the world. So, wherever I go, he goes too.
Micheál, A Chara, I wish I could speak to you now, to thank you for the wonderful career you carved for me, as Dance Teacher and Adjudicator. A special thank you on behalf of all the people who were fortunate enough to learn from and love you as I did"
"True grace in motion come from art, not chance,
As those move easiest, who have learned to dance."
Photos

Andy O'Connell showing Micheal ODuinn's steps

Platform in Killeshin Hill
Our French set-dancing friends, musicians and dancers from Provence attented the festival in 2000 and have lovely photos here.
Comments from Dora and Scheol Schimanko
An elderly couple came all the way from Austria on a motorbike and camped in Castletown. Dora wrote a poem on her experience:
Dear Everybody !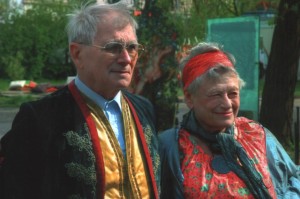 Half-Door Club and all friends, 26th August 2002-09-03
We are safe at home and these are few verses to say Thank you
The Visitors' song
We rode into Castletown on a fairly sunny day
But then the sun disappeared, as if we'd chased it away
It grew damp and wetter with dew and fog and rain
Everybody wondered – when will there be sunshine again ?
But a true Irish welcome is as warm as the sun
An all the time we spent there we had glorious fun !
Housing around and polkas, hornpipes, jigs and reels
Dora's dancing slippers were worn through to the heels
The figures of Cashel and the Plain are easy – to forget
But there was always someone there to steer us through the set
So laugh and if you do go wrong, just never never mind
And thanks to Grace, Katarina, Magalie for dancing along
And for making scrumptious teas to keep us going strong
To Andrew, John and Micheal and all the Half-door Club
For all the cosy evenings and music in a pub
For true Irish friendship just steals your heart away
God grant that we shall meet again, somehow, somewhere, someday !
PS : Names strictly aphabetically, apologies for misspellings.
All the best from Dora and Scheol
Miceál Ó Duinn Summer School by Elfi Ackermann, Mössingen, Germany
an article on the setdancingnews website
In the year 2000 I had a short taste of the Merriman Summer School in Lisdoonvarna, which I enjoyed very much. So I dreamed of attending a whole set dancing summer school in 2001.
When I looked on the Internet at Set Dancing News the Miceál Ó Duinn Summer School in Co Laois caught my attention. However, I wanted to make sure it was the right one for me – eleven days at the wrong place can be very long – and searched my Set Dancing News issues to see if there was a report or comment on it. I found nothing, so that's the reason for writing this report.
I followed my first instinct and decided to go to Castletown and stay in the Pastoral Centre. A friend called it an adventure holiday. I had a fantastic time and the eleven days were everything else but long. I was astonished at what a body can manage with the push of the music – all the dancing and late nights.
The Pastoral Centre was the ideal 'headquarters' because everyone could meet and have a cup of tea no matter where they were staying.
I also enjoyed the successful mixture of dancing and sightseeing and it was interesting to experience the different styles of teaching of the range of dance tutors.
Everything during the summer school looked so easy going, but if you looked closer you could see this was the result of the hard work of the organisers. The weather also did its best to make the week so successful. I couldn't believe I'd get all this outdoor dancing in Ireland.
Now I know where Co Laois is, how it's pronounced and where to go next time.
On my arrival Micheál Lalor welcomed me to the smallest festival in Ireland. And indeed it was small. I have no comparison, but if someone doesn't like a big crowd and likes to be off the beaten track in a familiar and personal atmosphere, I can recommend this summer school warmly.
My special thanks to the organisers from the Half-Door Club, to the participants from all over the world who were responsible for the good atmosphere, and of course for Bill Lynch's work without which I would not have discovered this summer school.
Scenes from the Miceál Ó Duinn Summer School at various locations in County Laois. Photographs by Sylviane Pinter and Stéphane Sergent.