Article of Nina Waterlot, initially published on the setdancingnews online magazine here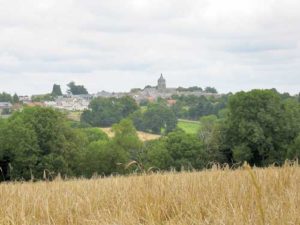 Le Grand Bal de l'Europe, "c'est la vie!" Taking place in Gennetines 300km south of Paris every July, Le Bal was founded almost two decades ago by a passionate philanthropist and dancer, Bernard Coclet. Beside teaching technology in a secondary school near Gennetines, Bernard devotes his spare time to collecting stories on the daily life of farmers and actively involves himself in dance workshops and classes locally or abroad—in particular on the French bourrée. He regards Le Bal as a life project as well as an artistic one, based on tolerance and respect of everyone and their own music and dance and above all to serve the dance community. As stipulated in Le Bal's charter, this European festival celebrates a universal language of gesture through the shared pleasure of dancing. With such a unique ethos, Le Grand Bal grew in popularity to the point where it attracted over 3,500 like-minded dancers daily last year. To save it from suffocation, a sister Bal was born in August this year, in the central location of Saint-Gervais d'Auvergne.
Auvergne—it rang a loud cast-iron cattle bell echoing with my childhood memories. Images of bucolic holidays projected me to a hilly countryside refreshed by clear streams flowing out a genuine tranquillity of life. I contacted the person in charge of the Irish group going to France, Peter Knight from Nottingham. Along with two other English dancing pals, Peter first attended Gennetines in 1993. Asked by the festival organisers to show set dancing, he saw hundreds of people pour in on hearing Irish music played for a demonstration of the Plain Set! The success was immediate: Peter was invited to bring a whole group over the following year. This is how, prompted by its fervent leader, the group House Around first introduced set dancing at Le Grand Bal de l'Europe, with live music provided by a ceili band from Manchester. Many zealous Irish dancers and musicians followed one another ever since, but Peter didn't willingly miss a single festival—nor a chance to attend a second one in a row! Bernard reiterated his invitation for the première of Le Grand Bal de l'Europe II. Delighted, but unable to stay for the entire week due to work commitments, Peter gathered eight other set dancers to meet up in Saint-Gervais: on the gents' side Micheál Lalor from Co Laois, who teamed up with Peter three years ago, Tim Flaherty and Michael Walker from Belfast and Charles Kiely from Manchester; on the ladies' side Joanne Riordan from Lahinch in Clare, and two French dancers, Annie O'Donnell living in Bray, Co Wicklow, and Eva Coombes in Limerick. What a pleasure to hear from Peter that I could complete the set, as the least experienced but most determined French lady from Donegal!
After a family pilgrimage in the north, I reached the centre of France on a high-speed train which made the landscape change in no time from coal slag heaps to mountain chains. I had my first connection in Lyon where I changed to a normal train. Getting off in Saint-Germain-des-Fossés I had about fifteen minutes to check the departure screen for my second connection to Riom—there was no mention of it! I soon realised, like a dozen other disorientated passengers, I was holding a ticket for a regional express train which did not exist! What a diabolical idea I had to travel on 08/08/08! Well, travelling with the French railways brings you, as the SNCF is proud of advertising, 'further than you can imagine.' The cold sweat evaporated once an employee blasé by this computer trickery shunted us onto the next train. Thankfully the final delayed kilometers on the railway to the ancient royal city of Auvergne crossed hectares of glittery sunflower fields, which forecast a radiant dance festival. Indeed three shining dancers' faces were waiting for me on the SNCF bus eventually connecting to Saint-Gervais—its railway station closed last December. Charlie, Annie and Eva arrived after different long journeys hooking up with relatives. Putting back my seat I comfortably let my imagination board a steam locomotive on the last bendy 39km through hills, crags and woods falling sharply, more and more precipitous, somehow dramatic and austere.
725 metres higher, the bus driver kindly dropped us at the campsite entrance. Peter warmly welcomed our half-set with the most attentive care and a spacious rented car, carrying our luggage to the Irish quarter. A lovely surprise was waiting for us: our tents had already been put up in a sheltered part of the field, thanks to both Peter and Micheál who arrived the day before; credit was also due to Bernard's obliging team who transported lots of camping gear from Gennetines to Saint-Gervais for us. Our chauffeur promptly took us first to the Halle Coeur des Combrailles, the heart of the festivities, to get our pass bracelets—eight minutes walk uptown. We were then invited for dinner in the canteen of the Vocational Agricultural Secondary School where meals would be served all week—another eight minutes walk downtown. Formalities over, back in the field I had very little time left to, hmm, remove some organic fertilizer from my shoes and polish them for the first ceilis. In the glow of a promising twilight I carefully guided my steps up town to the first dancing night.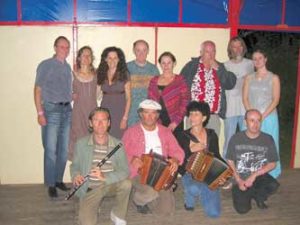 Friday night's dancing offered a tasty assortment. On the most capacious and commodious dance floor I savoured a spirited French waltz, a melting French mazurka and a schottische delight with three very singular but most appetizing dance partners. As I was leaving before the end, filled to satisfaction, I had an early look at the next seven days' program taking place on five floors detailed on four boards. About twenty different workshops (ateliers) were served à la carte between 10.30am and 7.30pm whereas the nights consisted of fifteen different ceilis (bals) of from one to two hours between 9pm and 3.30am. How to become a festival gastronome in 250 possible lessons? Sampling almost everything, almost any time of the day or night, parsimoniously but scrumptiously. A third of the dances were rooted in France, a third in Europe and a third elsewhere. Here is just a selection: Basse Provençal quadrille, Auvergnate bourrée, Breton gavotte; Renaissance bransle, Baroque dance; Wallon schottische, Swedish polska, Italian correnta, Irish set or ceili dancing; Canadian, Cajun or Québecois square dances; Gipsy, Turkish, Israeli, Argentine; tango, rock, hiphop or yoga for dance. Are you ready to order?
All the dancing took place in the Halle Coeur des Combrailles. All year round its four rooms welcome all sorts of events: canine or equestrian exhibitions, flea or Christmas markets, organic food or craft fairs in one of the two halls; weddings or parties in the upstairs restaurant room; concerts or plays in the cosy 450 seat amphitheatre. From the upstairs middle room, wide windows on each side allow a view of both halls. I liked glancing at the two spacious floors where light colourful skirts were elegantly swirling in a pulsed silence—each venue was quite well soundproofed. After such beauty, hard though to imagine these two halls were inaugurated in 2002 mainly to host agricultural fairs and competitions, like the famous Charolais Herd Book.
Another beauty the festival offered was live music for all events. Amplifying accordion, bandoneon, melodeon, fiddle, cello, hurdy-gurdy, guitar, dulcimer, recorder, silver flute, pipes became a technical challenge in such impressive halls. However instruments had a round, full tone close to acoustic, never too loud to prevent simultaneous adjacent workshops from interfering with each other. At a mid-week forum, Bernard suggested hanging parachutes to absorb and control the sound better in the biggest halls.
It was Claire Vallet, French accordionist and melodeonist of the family band Cire Tes Souliers (Polish your Shoes) who recommended a Parisian group of Irish musicians to Micheál in Gennetines. Claire, her husband Dominique on fiddle and their son Baptiste on guitar also play Irish music and organised a ceili in Saint-Gervais as well. The Paris-Irish connection was agreed a few days before the festival, but on Friday evening, Peter and Micheál's minds began working on ideas for Plan B—no sign of our musicians yet! For our very first two-hour workshop the next morning, Annie and I could still pick our flute and fiddle out of the very handy, safe and free instrument deposit, but who would demonstrate at our ladies' position then?
Saturday morning—I had no nails left going to the vast marquee outside the Halle. Thankfully Plan B was abandoned when the three members of the Rolling Notes Ceili Band showed up, an hour in advance for the sound check. The trio consisted in Gilles Poutoux on melodeon and accordion, Catherine Renard on accordion and Frank Brunel on flute. When they started tuning up on bits of jigs and reels, a welcome light breeze from Co Clare cooled the air of a hot summery day. Amazing how a few familiar notes can touch the right chord: feet, heart and soul ready to dance! By 11am a nice crowd had sheltered in the venue. Its uneven dance floor must have kept the imprint of millions of feet stamping on it since the early years of Gennetines—Bernard took note of its lack of quality and offered to hire a more decent one next summer. Yet Micheál counted nine sets at the start and one more by the end. Peter, in charge of the class, surveyed the assembly to learn who was a complete beginner in set dancing. No one put their hand up—perhaps the question asked in English didn't make an impression on European minds. But it seemed that most dancers could perfectly understand and follow Peter's introduction to reel steps or basic moves like dance at home and swing—a gradual, successful preparation for the Corofin Set. Since two set dancers of House Around, still catching connections, would only arrive in the evening, Peter spotted an experienced lady who didn't mind filling in for the demonstration. Each figure was always demonstrated to live music first, then walked through with emphasis on harder moves. The demonstration over, each of us would tutor a set and guide the dancers through the figure, sometimes repeated to be more in time with the music. I can't recall so far in my Canadian and French peregrinations any other social square dance with such precision between moves, beats and bars as in Irish set dancing. What a delight when the three fuse into one! By lunchtime most had mastered the Corofin Set without much difficulty, and all were invited to join the ceili the same night to have one more go at it.
Freed from duties until the evening, I pushed the door of the middle room upstairs and the scenery changed: to delicate trills and grace notes couples were walking around the floor on a tranquil promenade. At the far end of the room, most appropriate for such intimacy, two violinists on stage were interpreting harmonious duets. A lady courteously led us through polkas and schottisches from Landes and Alsace, showing us chassé steps with delicacy. Who said that gallantry is by gone? More gentlemen attended this workshop on Couple Dances at a 19th Century Ball than ladies!
Strolling in town afterward I wondered if I had gone back in time: the whole village, so quiet the night before, may have actually been active emptying lofts, cellars, nooks and crannies in every house and shed to set up so many stalls loaded with century-old memories! The annual flea market was spread around the Oak Tree of Liberty, a vestige of the French Revolution on the main square. Appealing display windows of some old-fashioned stores revealed here a fine cheese monger, there a creative hatter. Traditions and know-how are very much respected and present here in the Pays des Combrailles, located north of the department of Puy de Dôme and named after an extinct volcano of 1465m—high enough to be visible from the harvested fields outside the village on that summer day.
Right on time for a beautiful sunset and our first ceili, Tim Flaherty and Joanne Riordan arrived to fill our House Around set—Tim had just been teaching at the Interceltic Festival in Lorient, as he has done for the past four years. Both were quite familiar with Gennetines already. Back in the same marquee, the trio was ready to play long before 9pm. At ease beside the musicians our mc Peter announced the Corofin, and the band rolled out rhythmic reels. Their steady music at such a high standard delighted the dozen sets gathered. As if the lights on stage and the heat inside and outside the marquee weren't enough, warm applause rose after each figure to encourage our meritorious musicians! The Connemara Set followed, called then with precision and a pinch of humour by Micheál. Since set dancing moves can be complex, House Around briefly demonstrated every figure of both sets—it may break the usual flow of a ceili, but allowed everyone to get the swing of it! Thus there was no time for another set when the next band appeared for the next bal. Departing the next day to be back to work on Monday, Peter thanked and congratulated Bernard and company for a beautiful new festival-to-be. House Around was now in Micheál's safe hands. Everyone quickly moved on to four other bals already in action. I ran up the stairs, curious to push the magic door of the undoubtedly special middle room. Celestial ambiance: no words, no din filling the air, just the divine silvery tone of a solo flute floating sensually around the floor swept by sliding steps in 5/4 time—the enchanting world of the asymmetrical waltz.
Sunday was another fine day, and since a rest day, I seized the occasion to swim in the Etang Philippe, a pool near the campground. Its warm still water was comfortable like a bath—but not as fun as the invigorating waves of Tory! Sometimes the showers at the campsite were competing with the Donegal sea though. There are lovely hidden water pleasures around Saint-Gervais, in particular the river La Sioule, paradise for fishermen and strollers.
Walking up town I was attracted by an "air de fête" coming from a sheltered corner outside the Halle. Magic punched cards unfolded in zigzags at the nostalgic tempo of an old French waltz. While regularly turning the crank of a beautiful barrel organ (orgue de Barbarie) a man was singing along, as was done in cafés and bals until the earliest twentieth century to replace a dance orchestra. We were lucky the same evening to dance to his music in the cosiness of the amphitheatre. Transported to another time, I acknowledged a sentence I heard at the festival bar, "To understand historical dances one has to understand the society which moulded them."
On Monday morning I resolved to understand the town by walking its colourful weekly market. My five senses had just enough time for a stretch at the stalls before our second workshop kicked off at 11am sharp—the French reputation for being on time has not fallen down. Tim was in charge of the two-hour workshop. He led no fewer than nineteen sets through the Derry Set, in well polished French he had brushed up on in Brittany the week before! As well as his classes in Belfast, he also teaches set dancing at annual workshops in Paris and Italy. The lovely hornpipe steps of the last figure hopped just to the one o'clock mark, and Tim gave us all a rendezvous for the next ceili in twelve hours!
Energy had to be saved for the long night to come and most of us dozed the afternoon away. Eva and I seized the opportunity of recharging our batteries at a thirty-minute Yoga for Dance workshop in the marquee. While showing easy standing poses, the Italian tutor and dancer, also fluent in French, pointed out the importance of keeping the shoulders, arms and hands relaxed to welcome your dance partner in a tension-free environment. I remembered another of Bernard's numerous quotes about the festival, "There is always someone to catch your hand with a smile when you hold out yours."
House Around was as alert as possible at 1am for the second ceili of the week. About eight sets filled the floor this time—once more I was favourably impressed by the turnout and the good energy. If Gilles was anxious at the start of the festival, since only a third of the Rolling Notes Ceili Band could attend, the motivation he shared with Catherine and Frank was such that they were able to give their best. The enthusiastic response from the dancers kept encouraging them. To keep spirits high, Tim gave brief explanations in his smart French rather than long demonstrations and managed to call both the Corofin and Derry sets. It may have been after 3am when Micheál proposed finishing with the Connemara, an easy favourite to keep everybody awake. House Around quickly showed its four figures, always to applause by the seven sets left on the floor. After the exhilarating last Christmas, he thanked everyone for their supportive presence and wished us a calm night. I sleep-walked back to the tent, and lay on my mat till the next salutation of the sun.
The golden disc was high in the middle of the sky when I woke up the next day. I quickly swapped slippers for dancing shoes, since an extra workshop had been added to the Tuesday program at 1pm. Annie and I suggested introducing ceili and two-hand dances, and the organisers were pleased to accommodate us in a slot kept free for an express workshop. Having just half an hour, I rapidly started with the Highland commonly danced in Donegal, explaining the steps on both low and high parts while lilting then playing on my fiddle—Gilles, Catherine or Frank didn't have that type of tune in their repertoire. The little middle room upstairs barely held about 25 couples trying to double the last two bars. Lining up was much easier when Annie took over for the Harvest Time Jig, with the gracious help of our trio. Annie began Irish dancing almost thirty years ago, learning ceili dancing in Armagh in 1979, step dancing with Maureen O'Donnell (her mother-in-law) a year later and set dancing from 1982 with the late Donncha Ó Muíneacháin. She teaches Irish dancing in schools in south Dublin and Bray, and is involved in the Comhaltas branch which opened last year in Bray. Dancers were surprised to hear her switch easily from English to French, not knowing she originally comes from Reims, main city of the Champagne region—no wonder she's got this sparkling lift! Annie was meticulous on the right way to do the steps, correcting her ever-willing students to make them improve. But the next sound-check at 1.45pm put an end to the discovery workshop. Due to this unexpected success a second longer one would be offered on Thursday. Until then, House Around had free time to experience more dances and sessions, or attempt a journey to the centre of a volcano!
A third and last set dancing workshop was shared by Annie and Charlie on Thursday, August 14th, 3-5pm. Annie concisely demonstrated and called the Derradda Set, before Charlie taught the West Kerry. Charlie is such a passionate set dancer he has house dances most weekends at home in Manchester. Guests and host mainly dance Cork and Kerry sets, but also new ones and any others not danced at ceilis. His first experience teaching a set in Saint-Gervais was memorable for the dancers' willingness to learn new sets. They might not have the footwork but they quickly pick up the patterns—steps will follow with practice. They love to dance, like new challenges and learn quickly. Although the second discovery workshop was straight after the set dancing one, I was thrilled to see most of the dancers stay—as well as our musicians, generous with their time! They learnt the Long German, for which I played a favourite particular dance tune I got from the band Country Tradition. To suit the Barn Dance, Frank kindly interpreted a lovely tune he remembered from a trip to Glencolmcille. The trio was then invited to join us for the Circle Waltz and the Back-to-Back Hornpipe. In minute detail Annie taught entertaining sequences of the Siege of Ennis. Even if the workshop finished on the dot, everyone agreed to dance two figures of the Connemara called by Micheál as a finale.
In less than a week, set dancers' progress could be appreciated, judging by the flow at the third and last ceili of the Grand Bal, taking place in the biggest hall again from 11.30pm. Four sets were called, the Derradda by Annie, Connemara by Micheál, Ballyvourney Reel by Charlie and Corofin by Tim. I personally found remarkable the popularity of Irish set dancing at the festival—still a dozen faithful sets that night! Everyone showed so much fervour to step into it. I suppose it is one of the rare social dances featured in Le Grand Bal de l'Europe, by far the most complex and challenging. Irish music kept everyone moving; many thought the trio was Irish—nice compliment! According to Frank, being close to the Irish team gave him the feeling of being back in green Erin. For the same love of this magnetic, majestic music, I moved to Donegal seven years ago, in a way to live every day as on holiday. I remember my first faltering steps in Castletown the first weekend of May 2006, and first meeting Micheál, the event's organiser. I was amazed to be able to untie my mother tongue there in the company of so many dancers who travelled from France, some even from Italy, just for a long weekend. Here at Le Bal is the French connection! After discovering set dancing in Gennetines, and now Saint-Gervais, lots of dancers are open to visiting Ireland, and Micheál encourages many to come to Castletown. He even invited over the trio who accompanied us in this first experience. There's nothing better than experiencing true Irish atmosphere in county Laois—and any other counties. And any countries. Assuredly, dancing brings you further than you can imagine.
By the end of the festival, with no posters in town and no advertisements anywhere except in this beloved magazine and Trad Magazine (a French publication), Bernard counted 1200 visitors a day, which doubled the population of the village . 200 organisers, mcs, musicians and sound engineers, and between 100 and 150 volunteers made the first 'baby' Bal possible. According to the Saint-Gervais tourist office, positive feedback was expressed not only by tourists, but by the community itself. The event went without a hitch; shops got new clientele and some locals even decided to get dancing shoes for next year! Bernard, supported by his dancing community, released a new spirit which will most certainly settle over the Chaîne des Puys.
Nina Watrelot