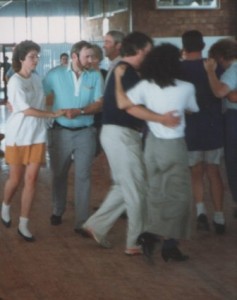 The man responsible for the name of our club is none other than the late inimitable set-dancing master, Connie Ryan. We have to go back to March 1993, when Connie and Betty McCoy were doing a weekend workshop in Newcastle West. Two cars arrived for the céilí that night from County Laois. John Sinnott was just moving into his ancestral traditional cottage where his grandfather was born. One of the lads mentioned to Connie about the half-door of the house where they would meet regularly. (Photo : Connie Ryan teaching in Cape May)
During the céilí and on other occasions, Connie would be heard to say: "Oh! Here come the Half-Door Boys again" and so the name stuck.
We travelled with Connie Ryan to America five years on the trot to demonstrate at workshops and help beginners at smaller gatherings from Boston right down to New York, Cape May, New Jersey into Philadelphia. That is where we met Colleen Kisielewski and Pat Whelan, and the American branch of the club was set up.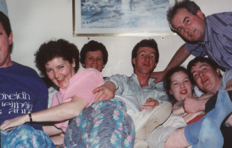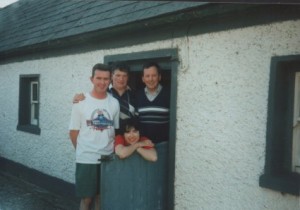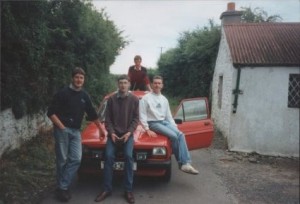 (Photo: The lads" in Derrylusk, Mountrath: Richard Casey, Peter Redmond, John Sinnott and Fintan Dowling (back), before we set out for the Willie Clancy Summer School in Miltown Malbay, co. Clare.)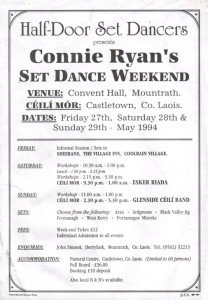 Approximately one year later, on an early morning journey back home from a gig in Dingle, the idea was formed by John Sinnott and Mícheál Lalor to set up a dancing event. We formed a club, the Half-Door Club in March 1994, with a few bachelors, Frank Murphy, Fintan Dowling, Peter Redmond, Andy O' Connell, Pat Mc Spadden, Richard Casey, John Sinnott and Mícheál Lalor and two girls, Christ Scully and Mary Dunne, and within a couple of days we had Connie booked to teach a workshop for the weekend, with Esker Riada playing for the céilí and Glenside playing the following day.
The event was a resounding success with late night sessions after the céilís each night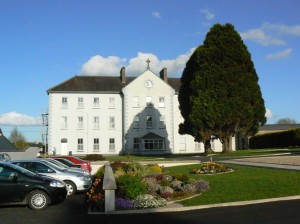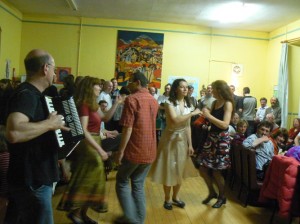 (accommodation courtesy of the De La Salle Brothers, Castletown, in the Pastoral Centre).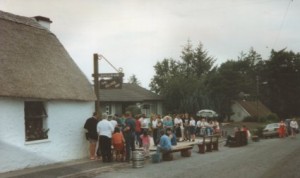 The following event was planned for the May Bank Holiday so that it could become a four-day festival. We had more on offer with Johnny Connolly, the renowned Connemara melodeon player to play at our live sessions and an outdoor céilí at Sheeran's Thatched Pub in the village of Coolrain.
For the first seven years, the event ended on the Monday with the outdoor platform. Eventually it was so well supported and attended and we confined it solely to the Community Centre in Castletown with the option of an open-air facility.
Hospitality is always paramount and everyone is welcomed and accommodated in whatever way possible: parking a Camper van, tea and sandwiches and home baked buns, cakes, tarts and flans all baked freshly every day by a local lady and served free of charge midway through the dancing and help-yourself coffee and biscuits during the night sessions.
We endeavour to offer a different twist every year: supporting a new band on the circuit, inviting guest musicians like American box player, John Whelan (his website) or organising a concert with accordion player, Josephine Marsh from Clare, or French Bal Folk with Philippe Plard.
There has been an international flavour to our festival from our début: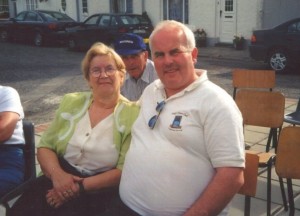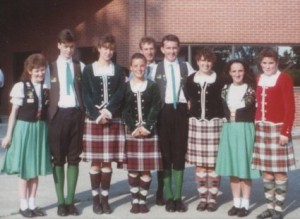 (Photos: Maura Shanahan R.I.P. & Micheál Lalor, Maura Shanahan's group of dancers (John Sinnott, Fintan Dowling in Ontario)
She was involved in running international folk festivals and providing representatives from Ireland at these venues. You can read Maura Bonham-Shanahan's words of appraisal to Mícheál Ó Duinn in the History page. Seamus Phelan R.I.P., Mícheál Lalor, Fintan Dowling, Pat Mc Spadden and John Sinnott went to France in 1988, The Netherlands in 1989, Canada and the U.S.A. in 1990 and Switzerland in 1991.
This led them to organise a group to travel to Orebro in Sweden in 1995. A party of twenty-five from the Half-Door Club made the trip and exchanged dance and music. We took part in the Mountrath-Plouhinec twinning and taught sets in Brittany in 1999.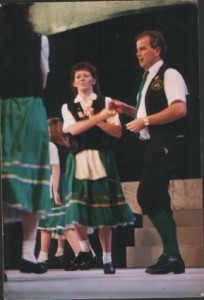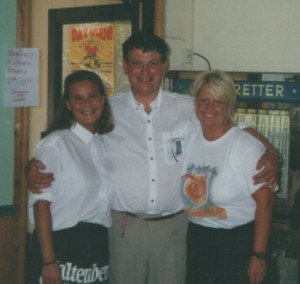 (Photos: Micheal Lalor and Geraldine Molloy in the Canada-US trip in 1990; Franck Murphy in Sweden)
Mícheál Lalor, Gerry Mc Evoy, Andy O' Connell, and John Sinnott regularly attend every July Gennetines Bal de L'Europe festival (see the page), near Moulins, in central France, in association with the House Around Group to help with set dancing workshops and mix with other European musicians and dancers. Paxi Perez, from the French Basque Country, invited us to demonstrate set dancing in Bayonne, South of France, in 1997 and we extended our tour to the Celtic part of Northern Spain.
We strive to open our horizons every year and support set dancers at home and abroad: our trips abroad include: London, Priddy in Somerset, Birmingham, Rudolstadt and Karlsruhe (Germany), Turin (Italy), Örebro (Sweden), Copenhagen (Denmark), Belgium.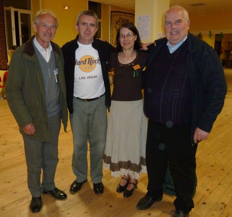 (Photo: Michael Tubridy with John Sinnott, French dancer Patricia and Micheal Lalor at the Breton Set Dancers' Gathering in 2010)
About us on the SetDancingNews
The famous Set Dancing News website has written some articles about the promoted events of the Half Door Club. See this article about the 2006 Festival or this article about the 2002 edition
Now: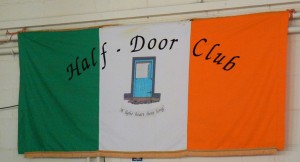 The Half-Door Club motto:
We found this quote "A light heart lives long" in an irish book of photographs in Derrylusk Cottage, Mountrath, where the half-door is. We thought it encompassed our love for dancing and life and retained it ever since.